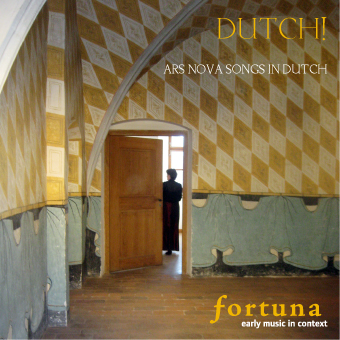 DUTCH!
Ars Nova songs in Dutch
A small, but precious collection of late medieval songs in Dutch; a collector's item released in a limited edition, only available at Fortuna.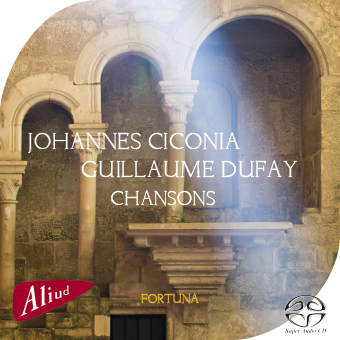 JOHANNES CICONIA & GUILLAUME DUFAY
Chansons
Fortuna Cisalpina! Just as Dutch painters in the Golden Age were attracted by the Italian light and went to work in Rome, many composers from the Low Countries also made their way over the Alps in search of inspiration. This Italian dream resulted in the creation of brilliant music by two such pioneers, Johannes Ciconia and Guillaume Dufay. In order to illustrate their borderless talents, Fortuna follows Ciconia and Dufay on this recording on their journey through the Flemish and Italian musical landscape of the late medieval times: Early Music in Context.

Johannes Ciconia & Guillame Dufay: Chansons (Super Audio CD) is released by Aliud Records.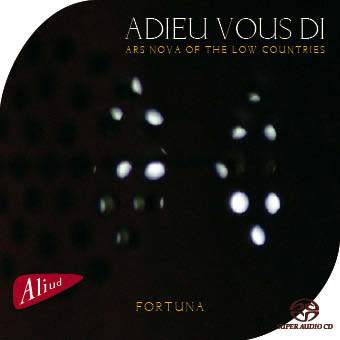 ADIEU VOUS DI
Ars nova of the Low Countries
Fortuna presents the fascinating and flourishing musical culture of The Netherlands around 1400. The superb love-songs from the Dutch manuscripts Utrecht, Leiden and Amsterdam are put the context of the international repertoire at 1400 with works by Guillaume de Machaut, Baude Cordier and Francis Andrieu. Adieu vous di - a powerful artistic portrait that restores the original splendour of Dutch Ars Nova and honours the craftsmanship of its composers.
Ars nova of the Low Countries (Super Audio CD) is released by Aliud Records.

'Fortuna revives medieval music and spirit in an unprecedented way. Absolutely a must-have for every lover of ars nova!'
www.aliudrecords.com
All cd's can be ordered by email:
info@ensemble-fortuna.nl
.